Wow! It's the end of the July – just how did this happen??
While I've been fending off the cold Sydney weather (is it just me or is it colder this year than before? Or have I just acclimatised too much – where's that NYker grit?) I've also been extremely busy and blessed with some fantastic author-y events and updates.
First and foremost, I had the pleasure of doing some author visits, including running fun workshops with the great kids at Cabramatta Public School. They were all super engaged and we came up with some hilarious ideas for characters – and I loved the questions coming in from the group. I definitely had a great time – thank you so much for having me along!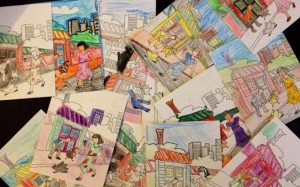 Later that month, I had the privilege to speak with educators at the Asia Education Foundation National Conference as part of their TeachMeet program. It was thrilling to hear how schools are incorporating the Cross Curriculum Priority Asia and Australia's Engagement with Asia into their programmes. I was especially interested to hear how educators are letting students take the lead on their language learning. It's really exciting to see how creative and switched on everyone can be.
I also had the absolute pleasure to be part of the Culture, Place and Identity in Children's Literature panel at the NSW Writers' Center Kids and YA Festival later that month. This festival has a very special place in my heart – as it was one of the first I had ever attended to learn about the craft of children's storytelling. It was so thrilling to be able to speak to aspiring writers now with the shoe on the other foot. 🙂 I hope the attendees took away some good information – it was an absolutely delightful session. I was so incredibly humbled to be sitting on the panel with the fabulous Boori Monty Pryor, the inaugural Australian Children's Laureate – he had such wonderful experiences to share about his extensive experience working with kids. I was fascinated by Sarah Ayoub's story about writing from her mono-cultural background growing up and Wendy Fitzgerald did a wonderful job chairing the session. (And a super congratulations to the amazing Aleesah Darlison for curating such an incredible festival programme!)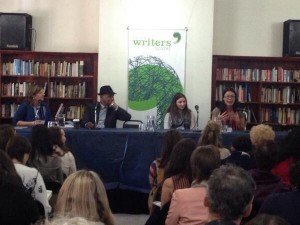 There have been so many more highlights and happenings I can't even begin to count – a special thank you to Lake Mac FAW for having me down for the day as well!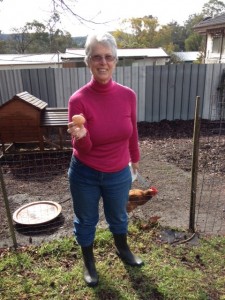 (Okay…now I can kind of see how it's the end of July already. 🙂 )
And of course – of course – Chook Chook: Saving the Farm is out now! I have to extend a giant THANK YOU to the booksellers, retailers, reviewers and of course readers that have been so incredible supportive of the series – you all ROCK AWESOME SAUCE!
😀