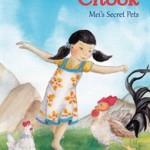 **GIVEAWAY** I'm giving away 5 x signed copies of Chook Chook: Mei's Secret Pets. To enter, simply share a story of your own childhood pet in the comments below. Do share and tell your friends!**
I loved animals as a child (and still do!), but growing up in New York City, I didn't have the chance to raise chooks like Mei did. But I do have a cat…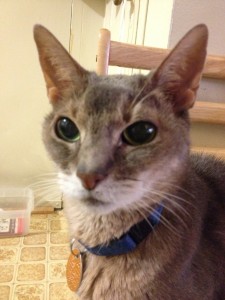 Amy is an Abyssinian Blue and is just coming up to 15 years old. She lives with my parents in New York. We first got Amy when she was a kitten just around 4 months. She was beautiful and so sweet, I remember the feel of her rough tongue licking my fingers like a puppy. I fell in love with her right away.
I've come to learn that cats are wonderful wonderful creatures, but I am fairly certain that all cats are actually a little strange. Amy is certainly no exception. Her funny habits include:
Even since she was a kitten, Amy has refused to eat her dried cat food out of the bowl. Instead, she uses her paw to flick the kernels of kibble out of the bowl and then eats them off the floor. We had to buy her a heavy ceramic bowl so that she wouldn't knock her food over.
As a kitten, her favourite toy was a little furry ball with a feather on the end of it that hung from an elastic string. The only problem was that this toy was a free sample that came with the purchase of cheap plastic cat toys, which she didn't like. We tried to find a substitute and tried a whole bunch of soft furry balls, but she never seemed to like them. So, my parents and I stocked up on a whole bunch of cheap plastic cat toys that Amy would never play with, just to get the free sample.
Once she became a senior cat (around the age of 7), Amy got very, very temperamental. She would only let my mother pet her, no one else – not even me or my dad! She has these long, long petting sessions with my mother, which basically involves my mum holding her like a baby, while Amy kneads and licks my mum's shoulder. But once, my mum was away for a couple of weeks and poor Amy was missing out on her petting sessions. She sulked for days. But the funny thing was that after about a week, she climbed into my dad's lap for a good long pat. My dad insists that the entire time, Amy had a look in her little kitty face that was a warning to my dad: "you may never speak of this to anyone!" (Oops – sorry Amy!)
Even though she's a much older cat now, Amy still has her deftly sneaky moments. Like this one, where's she's clearly eyeing off something tasty on the dining room table!
Amy is a no doubt a peculiar cat, but she is certainly a very cherished member of the Chim family and we all love her very much!
What was your childhood pet? Share your stories!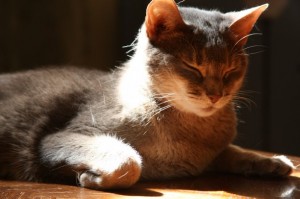 Powered by Linky Tools
Click here to enter your link and view this Linky Tools list…