Happy New Year folks and hope everyone had a great time ringing in 2013.
I always feel blessed at the end of every year to realise I live in such a fantastic city! Sydney is absolutely gorgeous this time of year and every new year that I've been here so far (we're on number 6 now), it's been sunny clear skies, perfect for celebrating. And I have to say that Sydney's NYE fireworks have the Macy's 4th of July fireworks beat!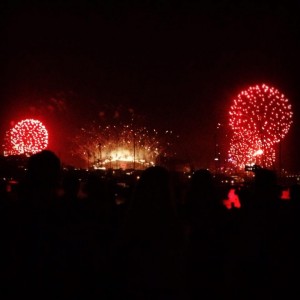 So what are everyone's New Year's resolutions? I've got a few around drinking less and eating more healthy, and hopefully taking care of myself in terms of doing things like having medical checkups and the like.
Meanwhile,the first round of Chook Chook 2 (as I like to call it) is now signed and sealed and delivered and I'm working on a new project. Well, sort of new. The members of my writing group will know that I've actually been labouring over this for almost 2 years now with a long hiatus as I had to spend a lot of my time working on the Chook Chook manuscripts.
It's a little daunting coming back into a project. And having been away from it so long, I'm not even sure I can pick up the reins of this enormous beast. It feels like such a monster of a project – but it's been that BIG work of mine that I can't let go and have to continuously grapple with until I hopefully get it done.
So monster wrestling gloves on, keyboard in place. Let's nail this sucker! 🙂