Here we go! I was actually thrice tagged for this tour, first by the lovely Tania McCartney and then fellow UQP author Kathryn Apel (whose first verse novel comes out this year!) I had to refuse these two lovely ladies as I was away in Hawaii at the time and was sure I wasn't going to be writing a blog post on a sandy beach in Waikiki.
Finally, the amazingly talented Aleesah Darlison caught up with me post-holiday and post-Somerset bliss, so of course I couldn't refuse again! So here we go.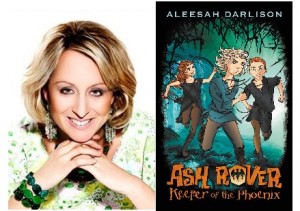 Aleesah Darlison writes picture books and novels for boys and girls of all ages.
Aleesah's picture books include Little Meerkat, Bearly There, Puggle's Problem (NSW PRC) and Warambi (2012 CBCA Notable Book Non-Fiction; 2012 Wilderness Society Award for Children's Literature Shortlist; NSW, QLD & SA PRC). Her chapter books include Fangs and Little Good Wolf (VIC PRC). Her novels and popular series are I Dare You, the Unicorn Riders Series (SA PRC), theTotally Twins Series (NSW & SA PRC). Her latest is the Ash Rover Series and you can read more about her experience writing it on her own Writing Processes Blog and her website www.aleesahdarlison.com.
When Aleesah's not writing entertaining and inspiring stories for children, she's usually looking after her three energetic offspring and her frisky fox terrier, Floyd.
And on to my bit!
1. What am I working on?
I'm very excited to say that I completed the very last bit of editing and revisions for the third book in the Chook Chook series called Chook Chook: Saving the Farm. My wonderful editor Kristy along with the very talented illustrator/designer Aileen Lord have been working hard to make sure this last book delivers everything you could be looking for in a final chapter – and I think we've done a fabulous job! I can't wait for you all to see it come July!
Other than that, I'm really excited to be working on a new project, a manuscript for Young Adults. I don't want to give too much away, as it's very, very early stages, but I'll say that it's set in China and draws heavily on some very important events in history that have a deep personal significance to me. (Ooh is that a good enough of a teaser? Maybe  that should go in my synopsis to the publishers, yeah?

)
2. How does my work differ from others of its genre?
Since releasing the Chook Chook books out there, I've learned so so much about what it means to tell a story and what I'm trying to accomplish in my funny little books about Mei and chooks.
My books are cultural, but what I also try to do in my work is bridge the gap that makes us consider 'the other'. Sure, Mei's world is different to our everyday, but her thoughts, feelings, reactions and emotions are so familiar that I think, well I hope, that children can read her and instantly feel as if they're a part of her life. I've taken bits of America, Australia and China and woven together a story of family, love and heart that I hope resonates across cultural, political and lingual differences.
3. Why do I write what I do?
Writing for me is a way to understand deep truths about human nature and to make sense of the world around me. More recently, my writing has a been a way to explore my own identity and background. I love finding out about my own heritage and connecting the dots between what my parents taught me and my own intellectual curiosity and research. The downside is all this research has made me the annoying 'know-it-all' in my family circle, even though my Chinese is worse than everyone else's!
4. How does my writing process work? 
My work starts with an underlying theme or a concept. I then map out main characters in some notes: what they're like, their motivations and their relationships to each other. I then write down an overall summary, the blurb of where I think the story is headed. In doing this, I kind of instinctively know where I want these characters to go and how they'll arc through their journey.
Other than that, it gets pretty muddled. I generally just start writing until I write myself into a corner and then have to research my way out! A lot of the time, I'll have to backtrack completely (and scrap heaps of work!) because my research revealed a fundamental flaw or I came up with a better way for things to work. Aside from that initial story arc and synopsis (which I tend to stick to), I'm not much of  a planner and just know what's coming up in the next scene or two – but miraculously, it seems to more or less work out how I wanted in the end!
So who's up next??
Following up on my Somerset experience, I really wanted to work with emerging writers and find out more their writing processes. And I've got some promising ones for you to discover.
First up, is a good friend and supporter, Ian McLean. Ian is a well-known face and avid supporter of children's books and he's been doing some great work in developing his own writing as well – most importantly he joined our amazing writing group!!  I've seen some great WIPs, but I'll let him tell you more.

You can view some of his fab ideas on his blog.
I also wanted to introduce you all to the fabulous Julia Pillai, she's studying Arts/Visual Arts at Monash University. This young writer has a lot of amazing ideas and observations that she shares on her blog while editing a play that she wrote which went through a performed reading with Monash University Student Theatre just last week (congrats!) – all of this, between volunteering and advocating a number of incredibly worthwhile causes.
Over to you! Thanks for reading!